Greetings
<insert name here>
!
Welcome to the Atari Database. We are currently editing over 185 articles about everything related to Atari! This includes everything from retro games, consoles, & handhelds, to homebrew/programming, modern-day publishing, remakes, merchandise, and even the company itself.

---
A famous quote from the creator of Atari: Nolan Bushnell
"Literally thousands of people have told me over the years that they met their wife or husband playing Pong."
---
Please follow the following rules, when editing this Wiki:

No Swearing: Keep it clean people.
No Spamming: If any one is caught spamming, they will be blocked.
No Vandalism or Abuse: Don't say someone/Atari/some game sucks.
No Inappropriate Content: If you wouldn't show it to your Grandma, don't post it.
Monthly Featured Video
Check out this month's featured Atari video!
---
Featured Article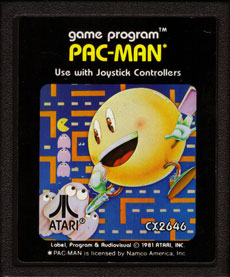 Pac-Man is an arcade game designed by Toru Iwatani of Namco and first released in Japan as Puck Man in May 1980. Licensed for distribution in the United States by Midway Games, it was released in October 1980 when top arcade games were stark space shooters, such as Galaxian and Asteroids. Pac-Man established the conventions of the maze chase genre, and is considered one of the classics of the medium and an icon of 1980s popular culture.
Read more...